Teczo Presented Future Trends in Collaboration Platform in 2010 HKTDC International ICT Expo
HONG KONG - April 30, 2010 - Teczo.com, Ltd. (Teczo), a leading Software-as-a-Service (SaaS) provider of a web-based enterprise collaboration platform to small and medium sized businesses worldwide, was invited by HKTDC to present a topic - Untying the knots and loopholes in your organization through 360º Collaboration, to share their insights in building an online collaborative work environment at the Exhibitors' Forum on Apr 13, 2010.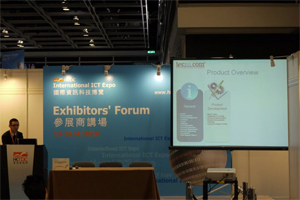 The presentation firstly showed the audience the latest development of web technologies in SaaS industry. SaaS is considered a new software delivery channel that provides access to software remotely as a web-based service. Through adding SaaS to a company's IT infrastructure, business owners can minimize the risk of investment by transferring all the IT maintenance cost to SaaS providers so that a company can focus on its core business functions. For SaaS providers, the single-instance and multi-tenant architecture enable multiple users to access a shared and centralized data model, resulting in economy of scale in service deployment, maintenance, upgrades and management. "It is indeed a win-win game for both parties," expressed Mr. Roger Li, Teczo Sales & Marketing Manager.
Teczo considers the evolvement of SaaS technologies as a stepping stone towards building a more robust and secure web-based enterprise collaboration platform. In the era of globalization, Teczo has decided to go beyond the normal ways that people communicate nowadays, such as notice board, instant messengers and emails. By offering an on-demand online platform, people in different work locations around the world can easily organize information, collaborate on projects, manage knowledge and record timesheets seamlessly in a centralized environment. Utilizing the SaaS model, Teczo eliminates the long and difficult implementation processes required from the traditional on-premise software installations. It also reduces fixed costs and lowers overall expenditures for personnel, hardware and system management.
"We are going to see the number of collaboration tools built on SaaS model growing in the software market soon other than traditional CRM, ERP and BI licensing," Roger said. "This expo has attracted visitors from different regions and demonstrated our vision and expertise in the field of online collaboration platform. Also, it was a great occasion for similar high technology experts to exchange ideas."
About Teczo
Teczo.com, Inc. (Teczo) provides small and medium-sized businesses with a web-based enterprise collaboration platform, which fosters information flow within an organization and enables distributed individuals and teams to work together seamlessly and productively in a secure central environment.
Teczo solutions are designed for collaborative work in all key business operations, including project collaboration, knowledge management, product development and time and attendance tracking.
For more information, email info@teczo.com, or visit http://www.teczo.com.